Welcome to One World, One Heart 2010.
We are a group of bloggers who may never meet in person but are banding together via the internet to help make this world a little smaller by forging more connections between us all. It's been a year since the last OWOH blog fest and while chronologically that isn't a lot of time, a lot can happen in a year. This year, I went from having controlled rheumatoid arthritis, to having out of control rheumatoid arthritis, thyroid disease, a spinal deformity, and an as of yet undiagnosed chronic regional pain disorder. It sucks, but I deal with it and I refuse to let it get me down. There are days that is harder than others because there are days where all I can do is lay on the couch with my heating pad watching daytime tv, and daytime tv is REALLY mind rotting. So, to save my brain and my morale I decided to teach myself to knit. I got myself a book and learned the basics. Then I took a few classes on lace and sock knitting and I've been off ever since. I have even turned my other skills to help with my knitting and made my very own stitch markers. And these will be my give away for this year's OWOH blog fest.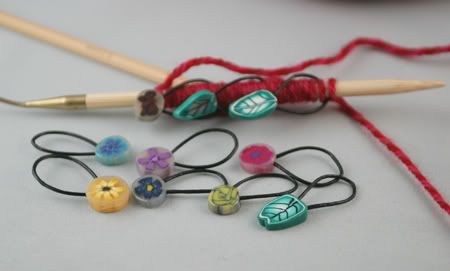 There will be three chances to win a set of 5 of these hand made stitch markers.
The first way is to simply leave a comment on this blog. Be sure to leave your email address or your blog address in your comment so I can get ahold of you if your entry is selected as the winning entry.
The second way to win is to sign up for my email mailing list. I don't send out many emails so you won't get a ton of spam but you might get one or two emails a month. Just mention in your comment that you would like to be added to my mailing list, include your email, and you will be entered into both drawings one and two.
The third way to win will help those in Haiti too. Go to my
Etsy
or
Artfire
shops and buy something. In the comment to seller section put OWOH Haiti and 50% of the sale will go to Doctors without Borders for their work in Haiti.
This journey ends February 15th at noon and the winners will be announced that evening. Thank you for reading my blog, and good luck!